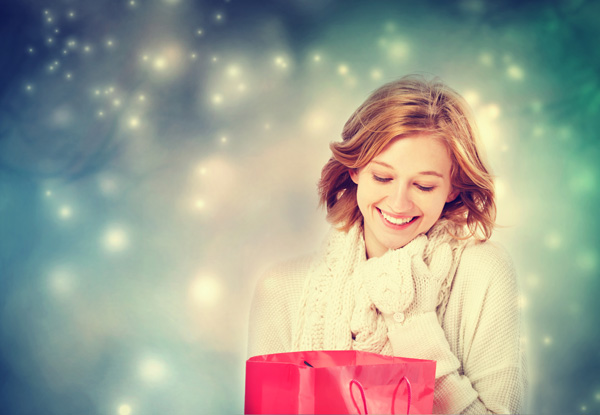 5 Reasons Why Manicures, Pedicures and Spa Treatments Make Great Gifts
Beauty is a Gift Guaranteed to Please
Wednesday, December 09, 2015
For some people, gift buying is the worst part of the holidays. There is pressure to get just the right thing, money issues are often a concern and there's always worry that a costly, unappreciated choice will be made. That's where gift certificates for aesthetics comes in. Here are five reasons they make the ideal offering to a well-loved lady.
They are deeply personal.
Unlike cold-hearted gift cards for a retail store, a gift certificate for a beauty treatment is the difference between having a "thing" or enjoying quality time. For many women who are veteran shoppers, the gift card experience is nothing really out of the ordinary; they shop all the time.  You may as well give cash. Being pampered for an hour or two, however, now THAT'S special!
The excitement starts immediately.
When a present recipient gets a gift certificate for, say, a pedicure procedure, the enjoyment of it begins right away for a number of reasons. The "giftee" will immediately feel appreciation for the coupon giver's thoughtfulness, of course, which gives them a good feeling. This is closely followed by the excitement of planning the outing, possibly with friends to make a day of it. From planning to procedure, there is a tremendous sense of anticipation until the Big Day. This is truly a gift that lasts a lot longer than just the time spent on the treatment.
Gift certificates can be a part of a more elaborate plan.
A gift certificate for an aesthetics treatment is always pleasant to receive. Imagine the thrill, however, when it's part of a package that includes lunch for two and a trip to the art museum, movie house or some other activity of specific interest to the recipient. There are few gifts that can match a day spent making memories.
A gift coupon is super easy to get.
Shopping centers during the Christmas season can be so crowded, you take your life in your hands by venturing into the throng. Then there's the half hour wait in line at the till to pay for your purchases. Many feel Christmas shopping is the best way to kill your Christmas spirit. Certificate shopping by comparison is easy as pie. With few lineups, ample parking and peaceful, serene atmosphere, it's far more pleasant to shop at a salon than a retail store.
Gift certificates are disappointment-proof.
A free pass to a pedicure palace will always please the receiver as it always fits just right, is the perfect colour and never, ever needs special laundering care. Gift certificates never go out of style, bunch up uncomfortably or require a PHD in consumer electronics to set up.
Mani/Pedi coupons are a frankly frugal gifting option.
Gift certificates for beautifying are one of the least expensive ways to impress a female friend or relative. Compared to other splashy gifts such as jewelry, stylish clothing or other popular gifts, a pedicure or manicure is downright cheap for the positive feelings that result.
Binh's Nail Styles