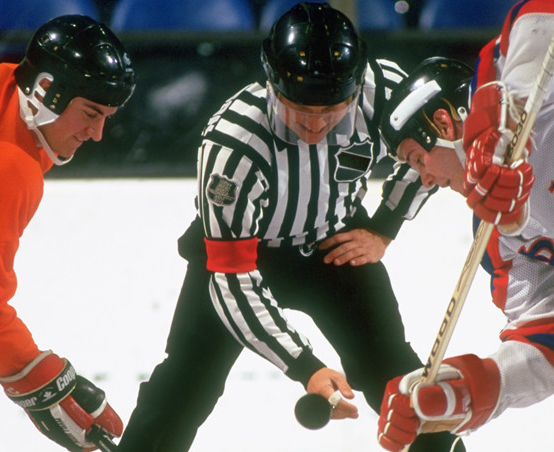 Putting the "Man" in "Manicure", NHL Style
Photo: You'd want a mid-game mani if you wore big, sweaty gloves, too
Tuesday, June 07, 2016
He may be playing for the San Jose Sharks in the National Hockey League's Stanley Cup Championship but right-winger Joel Ward, a rugged all-Canadian boy from North York, Ontario knows there is always time for a manicure. Ward was spotted on the bench doing his nails after scoring a game-tying goal which the "backs-to-the-wall" Sharks went on to win in overtime.
Swift Response Time
Reaction to Ward's celebratory nail-care moment was spread on social media faster than his slap shot and became an instant "meme" with reports in multiple media outlets including The Score, Mic.com, and many others. Twitter tweeters celebrated the mid-game mani  in their usual way, by making fun of the incident.
The Issue @aglance
A fellow known as @NHLBlinn, for example, tweeted the eminently reasonable assertion that "when you score a huge goal, you get to give yourself a manicure on the bench, damnit." Fellow Twitter poster, @TedStarkey thought, however, that Ward's actions deserved a "two minutes for clipping" call from the referees.
Spread the Ward
Binh's Nails is throwing their support behind Mr. Ward's mid-competition nail care activity and feel it should be expanded to include other sports and alternative situations. Manicures should become the norm in the Canadian Football League, for example, following a fumbled football, just in case "butter fingers" was actually the problem which led to the dropped ball. As well, a quick pedicure for CFL place kickers following a successful field goal, is another option which Binh's is suggesting as appropriate.
However you get your kicks
Alternative pedicure-deserving sporting plays could include scoring a goal in any level of soccer or winning a round in a kick-boxing fight. Both activities are ones which Binh's warns are very tough on toenail polish, though and that mid-game pedis should only be performed by trained professionals.
Nailed It
For a final piece of nail care sporting advice, Binh's experts claim that if you are involved in any sport where you must handle an inflated ball, claw nails are not appropriate and our sports heroes should stick with square or oval gel designs.
Binh's Nail Styles