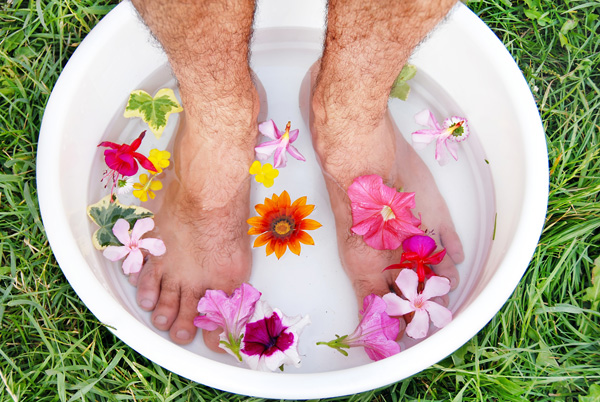 Why Men Are Making the Move to Get Manicures and Pedicures
Photo: He forgot to wax first
Wednesday, May 25, 2016
The First Man
The first man to get a pedicure was probably not LeBron James, but it may as well have been. Since his 2014 Instagram confession proclamation (from a pedi-chair no less) that, "Have to take care of your dogs Men! It's part of our life blood!", more and more male celebrities and sports figures have taken the pedi-plunge.
We Want Names
Guys like Kobe Bryant, David Beckham and Shaquille O'Neal are just a few of the household names popping up in a tsunami of stories featuring famous fellas getting finger and toe work. There has been such a deluge of articles about male mani/pedis, in our popular media, they are approaching the point of banal repetition. From Channing Tatum posting pics of the pedi that he gave his wife  to  Alec Baldwin sharing his pedi date with his daughter with the world, male aestheticss have become mainstream. And no wonder!
Why Men are Finally Getting With the Pedi Program
Men need an oasis of quiet in their busy lives, too. Although there are many reasons for people to be conscious of hand and foot health, there is also no debate that regular aesthetic attention, even for testosterone-oozing types, enhances their personal well-being.
 
Modern men care more about their appearance than their forefathers. Back in the day, men paid attention to their appearance only long enough to attract a woman; upon which they would celebrate this accomplishment by "letting themselves go." Men in the new millennium know that this sort of approach won't work with wives who know they don't need to tolerate slovenly behavior. There are, after all, plenty of other fish in the sea, some of which take care of themselves properly with regular hand and foot care.
 
Men aren't as concerned about being labelled if they get nail-work done. During the Great Oppression, men were scared to death to be thought of as unmasculine.  Now that alternate lifestyles have become more prevalent and widely accepted, the fear of being thought of as "unmanly" has fallen by the wayside. Manliness has a whole different meaning now and includes such things as vulnerability, gentleness and personal attention.
 
Men know women are attracted to guys that take care of themselves. Although some ladies fancy fellas that are a bit of a project, most other women appreciate a man that doesn't require grooming lessons like a teenage boy. Real men take care of their bodies. Proper personal care is simply an extension of that fact.
 
Men are better informed about nail health and why manicures and pedicures are important for good overall wellness. This is because men's reading material has branched out from only hot rod magazines, Popular Mechanics, Guns and Ammo and True Detective to magazines like Maxim  which feature monthly tips on men's fashion and personal care gear to keep men looking their best.
 
It is becoming a "couple" thing. Men in the new millennium are different from their Dads in that they are more inclined to do things with their significant others, and not just do things for them. This is a profound shift in couple dynamics and leads to such dating adventures as his and her pedicures.
For those that enjoy reading some humour about the male manicure experience, here is a story on the Binh's Blog about that very topic.
Binh's Nail Styles