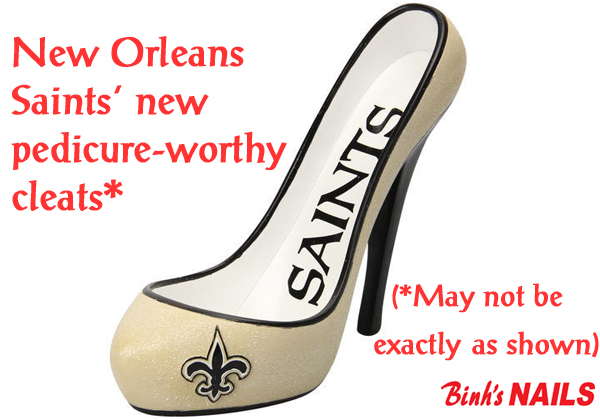 NFL Football Coach Rewards Players with Pedicures
The world is finding out about the benefits of professional pedicures
Thursday, November 16, 2017
New Orleans Saints' Head Coach, Sean Payton, surprised the rough and tumble football world when he arranged to have a team of nail care professionals give each of his players a pedicure. The move occurred as a result of a deal the coach struck with the team.
You scratch my back, I"ll scratch your... feet
Coach Payton wanted his crew to wear special cleats with extra-long screw-in studs to give the players more traction on slippery artificial turf. The players, however, preferred their regular footwear which are much lighter in weight than the heavy-duty spiked cleats the coach favoured.  When Payton offered to give everyone a free pedicure if they wore the less-comfortable cleats, the deal was struck. It was a wise move by the coach as he is a big believer in player health including getting proper rest and being at peak efficiency.
Always Listen to the Coach
"Half these guys never had a pedicure," Payton claimed in a USA Today report. "I said, "Some of you with nasty feet, you might have to give "em a big tip, but I got the pedicure." That"s winning and losing."
So what did they think?
Saint"s defensive end, Cameron Jordan, was convinced to wear the shoes after watching recent game films where their opponents had far more traction problems than Saints" players. He claimed the victory over their opponents was the result of the footwear advantage, but the offer of the free pedi also helped.
"I appreciated that, on his dime," he said of the coach.
"We will be taking him up on that offer Monday," snickered running back, Mark Ingram, after a stellar game. "I don't know about everybody else, but I'm gonna holler at him tomorrow morning for my pedicure."
Binh's Nail Styles