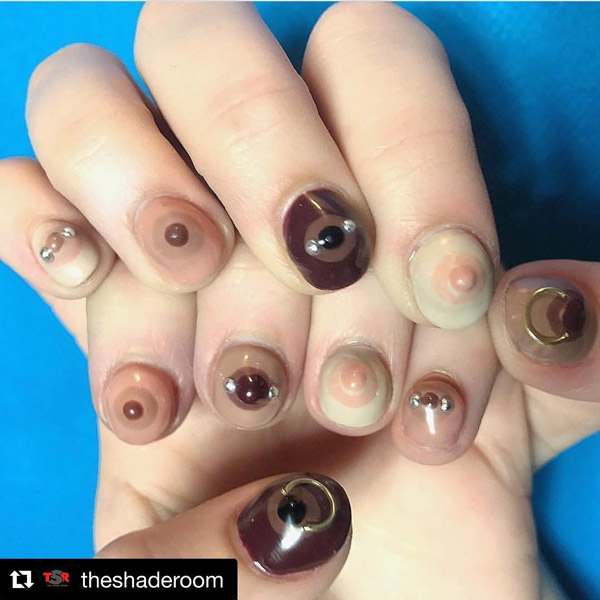 Let's Be Up Front - This Mani Really Sticks Out
Introducing the Boob Manicure!
Tuesday, June 13, 2017
It wouldn't be a normal week in the fashion world without a news story extolling the virtues of the latest manicure craze. We have seen everything from the sublime (The Spiritual Awakening  Mani) to the ridiculous (the Marijuana Mani) and everything in between. Now, however, the industry has gone bust with what may be the bounciest manicure yet.
Introducing the Boob Manicure. Seriously.
No, this nail design was NOT invented by a 14 year-old boy. The Boob Manicure is a real design created by an actual internationally-recognized manicure design artist by the name of Mei Kawajiri for her Instagram account Nails by Mei.
Off the Rack?
Mei's mammarian mani designs feature tiny 3D breasts in a range of human flesh-tones applied with acrylic and gel polish. The miniature orbs are then topped with a small, round stud to complete the effect (surely further explanation is not necessary!). Some of Mei's designs even feature "piercings" with itty-bitty rings and bars to mirror the popular trend in real bosom fashion.
But... but... but... why?
When asked by Allure magazine about the inspiration for the mammary manicure, Mei downplayed the design. "Lots of my friends have nipple piercings," she told the fashion mag. "So I thought it fun and cool to do on the nail."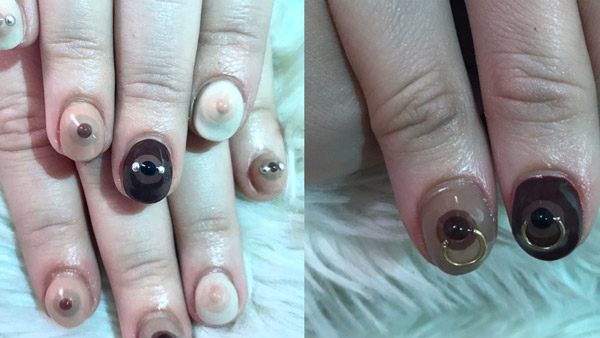 https://www.instagram.com/nailsbymei/
Binh's Nail Styles