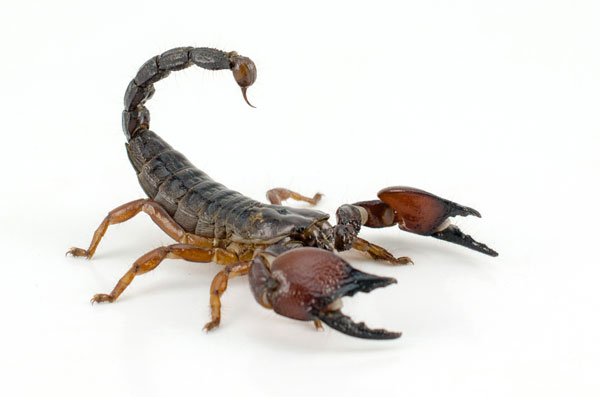 Killer Style, Are You Ready For A Scorpion Mani?
Maybe not...
Tuesday, March 15, 2016
When Edmonton's Binh's Nails East featured a blog regarding the trending of "Werewolf Manis" in international style circles, we were certain this would be the most frightening manicure one could ever get. Having tufts of wild werewolf fur glued to your nails was definitely a look not designed for the faint of heart. (Pro tip: genuine werewolf fur works best but be careful of running afoul of PETA protesters.) Little did we realize at the time that on the horizon was an even scarier nail motif. Except, this time, the fear isn't from some fake Hollywood monster but from something that actually kills people. Really!
Working the Bugs Out
For those not familiar with the darkest edges of fingernail adornment, the newest fad involves your friendly, neighborhood manicurist gluing freshly-killed, super-deadly baby scorpions on the nails of the willing. These scorpions are so lethal; a single sting is enough to send you to your Maker in less time than it takes for cuticle conditioner to soak in properly.
Why Scorpions?
Having seen some pretty extreme nail styles, from aquarium manicures to an exquisitely ornate silver filigree finish, folks probably figured, why not? For modern manis, the sky is the limit with the only bounds being one's creativity. Developed in Mexico where these scorpions call home, this new manicure trend is more than simply a sneaky way to make money off a cheap, plentiful resource.  These nails demand to be noticed. Isn't that one of the reasons you love your manicures?
The Point of It All
A word of caution, however, the stingers of the baby scorpions they use are not removed and still contain a lethal dose of venom. It puts a whole different slant on the phrase, "nails to die for". For more on scorpion nails including a photo of the style, have a look at this story in "The Inquisitr". Also, this article in UK's Daily Mail features other wacky uses for scorpions besides the highlighted manicures.  These uses for scorpions include, among other things, filler in tacos. This world seems to be getting buggier by the day.
Binh's Nail Styles